Name:
Bliss Q'Son
Known Name:
Bliss
Age:
Unknown
Race:
Pureblood
Gender:
Female
Sexuality:
Straight
Alliances:
Vampires
Iris Command
Origin:
Japan
Blood Relatives:
Asher D'Amico (Son)
Alec Q'Son (Son)
Mavira D'Amico (Daughter)
Heaven Valencia Dakota (Daughter)
Angel-Feir (Sister)
Fang (Sister)
Falcon Lowe (Brother)
Raine-Damica Lowe (Niece)
Robin Ltorá (Granddaughter)
Zwei D'Amico (Grandson)
Height:
6ft7
Physical Description:
The distinctive white hair, and the bright red eyes. The origin of the gene that shows up in most of her family members. She has a distinctive look of maturity about her. She has a fairly developed chest, as seen normally in the family gene's. Another thing, she is tremendously tall. Her skin is the palest clearest white ever seen. She is completely beautiful, with a mature sexiness around her. Her pureblood blood helps this, she is known as one of the most beautiful woman in the whole of Pangaea.
Her looks are almost hypnotising, she has a seductive charm around her that follows her everywhere.
Personality:
Bliss is a spot you can't itch. The sort of person that is always going to show up, the sort of person everyone thinks is on some sort of illegal substance. She is bluntly obvious, and fairly dismissive. Always looking to the bigger picture, never at the problem at hand. She is highly friendly, and wants respect from most people. She is the type to give people pet names. She doesn't care if someone doesn't like her. She will simply brush them aside. She believes in following your gut, your instincts, perhaps making her more animal. She never thinks about sometime, she never thinks of doing something, instead she just does it.
She is tremendously loyal, she dislikes dispersing her friends away like some people do. If you are her friend, you're her friend for life. But, don't' get me wrong, when she is serious. She is sinister, she is aggressive. She is fiercely protective of her family and friends. She has a side to her that no one believes is true, because it is so hardly seen. She is an animal caged in a body, so to speak. Many people refer her to a wolf.
Exterior Energy Abilities:
Powerhouse: As a family trait, every member is normally overstocked in energy. Many only use 5%, 10% or even 2%. Bliss is the most over powered out of them, she simply uses 1%, and is even more powerful them most of them. It is said that if she were to release all 100%, she could match Destiny.
Senses: Completely strong, intense hearing, amazing scent and overall great eyesight.
True Form:
Pure bloods too have true forms, however they are much larger, more powerful and much more aggressive than a normal Vampires form. However, these pure bloods have the best control over switching their forms, their anger never getting the better of them. They are able to switch from form to form when calm or when angry, whereas normal Vampires may only switch through anger and irritation.
Hypnotism:
She is able to hypnotise anyone, through either seductiveness or general order of authority.
Known Contacts:
Iris Command
Philosophy of life:
Never ask why. Follow your instinct. We are animals for a reason.
History:
Born in Japan, raised there with both parents, Father died, moved to America. Her mother then found love in an American man, giving birth to Angel. There parents died together. Bliss stayed in America, her other family left.
Bliss then fell in love with a man named Zane. She had four children with him, Heaven, Mavira, Asher and Alec. Although, Asher and Alec were triplets, Zane had the third killed. Bliss killed them for that, and went on a killing spree, taking up the name 'Black Widow'. She then met a man named Asher, who she named her child after. The man Asher was a pureblood, he blooded her and soon left. She stopped killing and settled down into a normal pattern.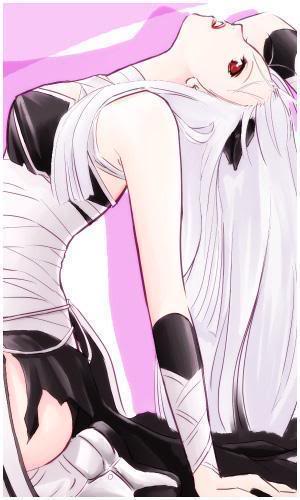 _________________

~ Hesitation will get us killed, animal instincts are your greatest security.

Zoey

Admin





Posts

: 755


Points

: 829


Reputation

: 26


Join date

: 2009-07-09


Location

: shoebox.



_________________
Look down at me, and see a fool.
Look up at me, and see a God.
Look straight at me, and see yourself.


Jessica




Posts

: 2443


Points

: 2567


Reputation

: 7


Join date

: 2009-07-19



_________________

~ Hesitation will get us killed, animal instincts are your greatest security.

Zoey

Admin





Posts

: 755


Points

: 829


Reputation

: 26


Join date

: 2009-07-09


Location

: shoebox.




---
Permissions in this forum:
You
cannot
reply to topics in this forum