Name:
Gabriel Li Faine. (Nicknamed
'Gabby
')
Age:
Unknown, expected to be in his late 300's to early 400's.
Race:
Unknown
Date & Place Of Birth:
Gabriel was born on the 12th June, the year unknown, and the exact location of his birth was also unknown, however, he does know he was born in England, judging from his thick, regal English accent.
Height & Weight:
Gabriel is very tall, standing at the grand height of 6"10. His weight is roughly around 14 stone, his body being made up of mostly pure muscle, yet these seem slightly hidden.
Physical Description:
Gabriel is beautifully aristocratic. His body structure is broad, muscled yet lean and slender, showing the muscles yet not too much to make him look steroid enhanced. His face is stunning. It can be described as a little feminine, yet he has the masculine look around his jaw line and his prominent features.
His skin tone is a soft pale, his complexion being similar to that of some vampires, but not too much so. He still has the gentle peach running throughout, tinting his skin a little darker than the vampires deathly look.
Gabriel's eyes look extremely feline and constantly seemed ringed by darkness, yet slick and sleek to fit the shape of his eyes. This is not makeup. This is simply dark marks that constantly seem to be there. His eyes themselves are captivatingly stunning to look at.
Through the slant, his iris is a sky blue, cloudy almost yet eerily bright despite that. Around the iris itself is a thick ring of black. In the blue, there is no other shades, simply that one black colour, with a small dot pupil in the middle. Sometimes it is hard to see if he actually has a pupil or not.
Gabriel has unusually long hair for a male. It is jet black in colouration, however in some lights, seems to be a bizarre lilac like colour, with thin stripes of black running throughout it. His hair itself extends down the middle of his back, almost to his waist. This is a definite sign of his regal allure and background.
Also, Gabriel has numerous tattoos over his body. On his back, two shredded angel wings suit either shoulder blade. It isn't known properly what these resemble, whether it be his name, or due to one of his past relationships. Also, along where his heart is, is a symbol of a tribal crown, intercrops with a religious cross. Finally, he has a small tattoo of Japanese scripture along his wrist, yet no one knows what it is this stands for.
Overall, Gabriel is an outstandingly handsome regal man, whose looks capture and entrance women effortlessly, and he flaunts it knowingly.
Clothing Description:
Gabriel wears only fine material in the best colours. He is slightly stuck up due to his past, but he has the ability to get what he wants, not only through the fact he has the money, but the persuasion technique he's so able to use. His clothes tend to be thick, fur often lacing them, yet open partly at the top of his chest.
He usually only wears special silk, cotton and the best threads. He is extremely regal looking, but it also adds to the intimidating aura that he brings across, despite his calm demeanour and expressions.
Also, he wears a variety of expensive looking jewels. Around his necklace hangs a single red droplet ruby that is fixated onto a silver pewter chain that hangs loosely around his neck, leaving so the drop lands squarely in the middle of his chest. Sometimes, lets him be mistaken for a vampire.
Usually, he also wears small silver chain bracelets hanging loosely around his wrists. These seem plain without any decorative jewel, but can sometimes be seen with a small inscription along the back.
Despite the amount of layers he wears, he always seems to just look effortlessly chilled and relaxed, no sign of heat or uncomfortable warmth showing on his face.
Behavioural Description:
Gabriel is completely relaxed and placid. Despite his slightly intimidating look and his often narrowed eyes, he is usually very calm and never see's the point in shouting or even raising his voice. Swearing to him is an abomination to the English language, however he has given up on correcting his friends whenever they do swear, seeing it as their way to express themselves.
Furthermore, Gabriel is a complete flirt, womanizer and a little bit of a player. Apart from one relationship, he's never really held one down securely on his part. Sometimes, he doesn't even mean to behave how he does, but he just cant help himself sometimes, seeing as there being no need to limit himself to just one woman.
On the other hand, Gabriel does have some noble sensibilities about him. Despite the fact he is an utter womanizer, he does have a show of respect for women. He acknowledges the fact that some women are extremely powerful and he recognises this fact, but he does not fear them. Infact, he does not fear.
Even though Gabriel is the picturesque form of calm and relaxation, when his temper is broken, it really does break. Gabriel's temper is furious and can be described more like a rage form. This is where one of his abilities (described below) is depraved from.
All in all, Gabriel is an open person to be around. He does not take people for granted, yet he knows where he stands. He is respectful and polite to many around him, however he knows where his true loyalties lie.
Parents Names & Occupations:
Gabriel's mother and father were named Cynthia Li Faine and Daryl Li Faine. The two of them were rich merchants who had invested massively due to shares. It is known that the two are now deceased.
Other Family Members:
It is rumoured that Gabriel has a younger sister named Sierra, but he does not speak of her much.

Lover/Spouse:
Gabriel is currently not in a relationship and seems not to desire a steady one.
Social Class:
Upper.
Abilities:
Speed & Strength:
Gabriels speed equals that of an arrancars and surpasses it to the point of teleportation, yet he does not use it much passed that of flitting as a vampire standards. His strength is incredible also, just a little under that of Alec Q'Son.

Energy:
Gabriel has an immense stock of interior and exterior energy. This is what he can form into whatever defence or attack he wishes. The energy itself is a bright royal purple colouration and is difficult to break or ward off.
Dirty Rose:
Some say that "Every rose has its thorns", but not every one of them has and it's deadlier without it. Gabriel is able to form unlimited amounts of roses in a beautiful bouquet. However, when thrown and his fingers are snapped, they are able to burst into petals that emit poisonous gas that'll stun or even kill.
No Evil -
Hear No Evil:
This ability is similar to telepathy but more extreme. This gives Gabriel the chance to listen in to others thoughts regardless of mind blocks. Also, if he wishes, he is able to use sonic kinetic waves he is able to generate to deafen his opponent.
See No Evil:
This, the 2nd of the triple ability allows Gabriel to form holographic illusions. The illusions he creates are so realistic, that even those who know that they are illusions have difficulty ignoring them. During this ability, if Gabriel wishes, he can turn the illusion into a sun bright light, blinding the opponent instantly.
Speak No Evil:
A simple slightly amusing ability. Gabriel is able to silence people indefinitely by stealing their voice, similar to a L'Mimicant in a way, par Gabriel is more likely to return the voice if he's fond of you.

Take No Prisoners:
This is something useful to Gabriel. The tell tale sign of this, is his eyes will flash a bright red. He is then able to rush to his opponents. As he does, the surrounding area is plunged into darkness, and Gabriel delivers multiple blows at the same time. It is extremely handy for him when he's outnumbered, and is a form of rage to release what he never shows on his face.
Freezing Flames:
Gabriel is able to generate a whole circle of bright ice blue flames. These flames are not like normal flames. They have reached an intense heat, so powerful infact, that it is freezing. This is one of his most deadly powers, as when the fire latches on, it burns to the bone almost instantly, leaving the person limbless. It is difficult to escape and even the slightest brush of this flame will almost evaporate flesh.Bleeding Time: This ability is something actually very useful to Gabriel. If he is ever hurt or injured where blood spills, he is able to prevent it actually bleeding out for long periods of time, preventing him bleeding to death. This also confuses others by when he is cut, no blood moves from his skin, instead, it looks as if he was never hurt in the first place.
Bliss And Horror:
This is something to pheromone control however, a little restricted. Gabriel is able to alter the euphoria of someone. This is enabled by triggering sensors in the brain. Also however, this works the other way around. By using the same sensors, he can force the other person to be at complete fear or even induce sickness.
Sense Of Humour:
Depending on the judge, it can be said that Gabriel is an evil man. On the other hand, he can be seen as wonderfully friendly. This is mostly through his sense of humour and personality. He himself would describe his humour as normal, but others view it as malicious, twisted and dark. He is slightly masochistic and sadistic.
Health, Physical State, Distinguishing Marks, Disabilities:
Gabriel is in wonderful health. The only marks on his skin is that of the tattoos he has, which are usually hidden under his clothes.
Sexual Orientation:
Straight.
History:
I'll get round to it.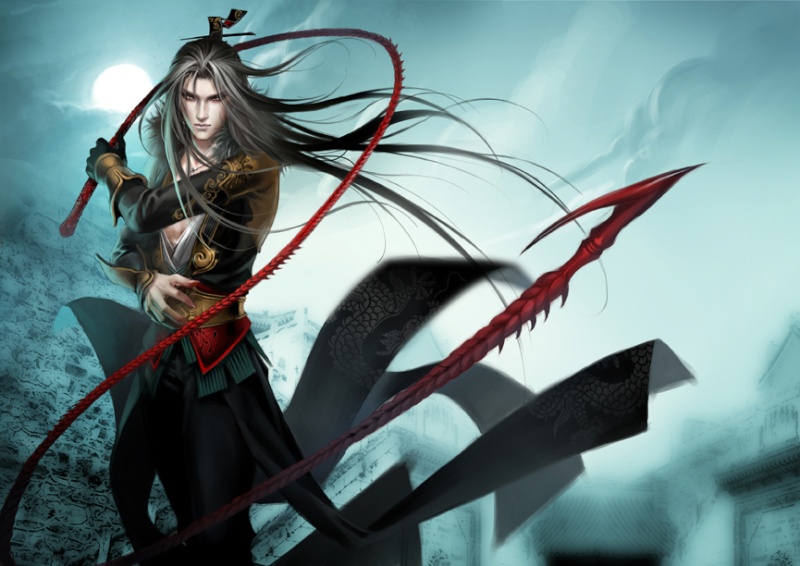 Last edited by Jessica on Fri Jul 23, 2010 10:09 pm; edited 1 time in total
_________________
Look down at me, and see a fool.
Look up at me, and see a God.
Look straight at me, and see yourself.


Jessica




Posts

: 2443


Points

: 2567


Reputation

: 7


Join date

: 2009-07-19



_________________

~ Hesitation will get us killed, animal instincts are your greatest security.

Zoey

Admin





Posts

: 755


Points

: 829


Reputation

: 26


Join date

: 2009-07-09


Location

: shoebox.



_________________
Look down at me, and see a fool.
Look up at me, and see a God.
Look straight at me, and see yourself.


Jessica




Posts

: 2443


Points

: 2567


Reputation

: 7


Join date

: 2009-07-19




---
Permissions in this forum:
You
cannot
reply to topics in this forum