Name:
Larina Ltorá
Age:
Appears that of a 19 year old, but in reality is hundreds years old.
Race:
Larina was once a Galliard Lycan however she has now had this taken away from her due to her own request by Destiny. She is now simply an overly enhanced human who does not age.
Date & Place Of Birth:
Larina never did know her real birthday, however she counts it as the 11th of November, the first day of Winter - her favourite season where the days are short and the nights are long.
Height, Weight & Physical Description:

Larina stands at the height of 5"3 with her frame itself being slender and extremely feminine. Her curves are well defined yet nothing some of that of a middle aged woman. Instead she keeps her youthful appearance, not just by her height but by her face too. Her legs for her frame are rather long with a flat, toned stomach, her chest size having been increased due to Destiny (Gravity's request may I add.)
Her skin stretched over her figure is a soft ivory colour, flawless and smooth. Touching her skin resembles something of touching silk, the very feel of it being delicate. Her skin is all over smooth par that on the corner of one eye where it is lightly scarred. Her cheeks have a gentle rose undertone to it, yet cannot be called a blush, just a little highlight to keep her skin away from being deathly.
Her face structure provides her with noticeable yet soft cheekbones, her face being well defined and structured. Her features are in excellent proportion to the rest of her, her eyes being centred, her lips full and even. Even the way her eyebrows are shaped add to her beauty.
Her hair is thick and dark, being jet black in colouration. The length of the hair extends down to the middle of her waist, the style of it being heavily feathered and layered, making it so when she moves, her hair separates and twirls. Her hair is feathered mostly around the front of her head, giving her a gentle side fringe that descends in length, and provides light bangs either side of her face. Her hair has no highlights nor streaks running through it, however it does have a deep blue tone to it when the light shines on it, making her hair being more a raven colour.
Her eyes are calm looking, feminine and elegant. They appear quite feline like, extending outwards into a slight flick towards the end. They sometimes usually seemed a little narrowed, however this is due to her regular emotions. Her eyes are heavily framed by thick overly extended eyelashes, though this isn't through enhancement, but by nature.
Her irises themselves are phenomenal in colour. The outside ring is a thick black colour, surrounding the irises in a defined frame. Inwards, the eye begins a light grey colour, barely making it in to be silver, before a sudden sharp glint of a silver ring moved inwards. Her pupil is usually quite small and central, however around it, the silver is intensified so much it could be considered as white. The shape of the white-silver surrounds the iris in a numerous spiked star way.
There are a few more rings of light silver running throughout her eyes, making them amazing yet frightening to look at. In the corner of her right eye however is where the only flaw in her perfect appearance falters. As small as it is, it is still her most famed feature par her eye colour.
The tear in a shape of a scar forever marks her skin just on the side of her face, underneath her lower lashes, yet towards the side of her ear. It extends only a few centimetres, yet is enough for anyone to look at her and notice. It is a slight greyish colour, the edges blending into her skin, yet still standing out in a strange way.
Overall, her appearance is defined as beyond beautiful, simply elegant and enticing. Her looks themselves have captured many men, only for her to cruelly shoot them down again. Her appearance being so youthful and innocent looking attract much attention, yet her personality completely diminishes her innocence.
Clothing Description:

Larina usually doesn't really care about how people look at her, or much what she is wearing, however she seems to make any type of clothing look just right. She is usually seen wearing short lower half clothing and slim fitting upper halves. A typical day out outfit for Larina tends to be dark coloured denim shorts and a light vest top that clings to her body, showing off her curves and body shape well.
Due to her undercover works, she sometimes is seen wearing bizarre outfits due to switching jobs constantly, fake of course. Sometimes she has been seen wearing precious ball gowns, secretary clothing, and even a teacher. She herself enjoys the undercover work, finding the many outfits fun to switch through.
She too likes wearing dresses like any other feminine girl, however is never seen wearing long dresses, seeing them as something more old women wear, and plain looking. Instead she wears high fashionable short dresses that usually stay above her knees.
Her actual assassin wear differs from that of her usual clothes. It tends to be a tight fitted one piece suit that covers down to the top of her thighs and just to her upper arm. It is always a jet black colour, and often made out of leather, rarely material, due to the many rips she gets in it.
It can be called a short jumpsuit. It clings to her body just as her normal clothes do, showing off her frame and how slim her body is. The sleeves themselves stop usually at her elbow, though she tends to push them up higher than that. The top of the suit it much like a shirt, usually partially open, the buttons going down the middle of her chest before meeting her equipment belt at the middle, where the attached shorts stemmed from.
Behavioural Description:
When Larina was younger, she was a shy, timid and barely social able child, this however being a result of her history itself. She now is extremely distant and cold to all around her, par 2, Gravity and Jahzara, the only two who she shows open compassion to. She is often very guarded of herself, yet openly reveals her past to anyone who claims to be a good listener, but will not take any kind words or advice afterwards, believing it unnecessary and useless.
She also believes that she is the only person she can rely on now a days, having lost her trust and faith in everyone, even those that were once her close friends and family. In her eyes, she has no family left, despite having 2 living siblings, aunties and many cousins. Jahzara is the only living member left of her family to her, despite her not even sharing the same last name.
She is utterly confident in her own abilities and mind, trusting only herself fully. She may show a little trust in others, but there will always be a loophole or condition she fixes upon them. Even if someone were to treat her for injuries, she would always have a secret hold over them, just in case.
She is reluctant and almost impossible to have receive help, believing that only she can look after herself, and that she does not need looking after, claiming she is completely independent. Often, when she wants something, she will go through whoever stands in her way to get it, being classed as one of the most deadly women, full of malice and hatred.
Also, she is highly ungrateful to others who show her kindness, often retorting or retaliating in an unkind manner, resulting in injury or death.
On the other hand, though this can also be seen as something bad, she is very honest, brutally even. She will most always speak her mind, yet she is very intelligent and knows when she should be quiet or holding her tongue, often sealing her thoughts away with a ghost of a smile.
She is admittedly vain, knowing that she is a beautiful person, and often using this to her advantage, as does her company. She knows she attracts male attention and often plays on that fact, another way to get what she wants. Again, as another side to her, she can be relied upon too finish her assigned missions.
Furthermore, she is utterly stubborn and persistent on many situations, her cocky attitude often getting her into much trouble which she easily gets her way out of, or defeats. Most of the time, she is stupidly reckless, but she always knows her ways to escape from it. She is definitely not a stupid person, smarter than others believe her to be.
Finally, Larina can be classified overall as mysterious. Despite everyone pretty much knowing details on her past, the only man to ever know everything took it with him to the grave. No one will ever truly know.
Parents Names And Occupations:
Larinas parents, Rose and Ryan Ltorá were rich merchants who owned many housing properties across the country and were ridiculously wealthy. They were highly respected and sometimes even feared by other families around and though they knew of the torture Larina went through, none of them would dare to stand against them.
Abilities:
Senses -
Despite Larina no longer being a Lycan, Destiny has enhanced her senses tremendously. She can see up to great distances, with the utter most perfected definition of shapes and colours. Her sense of smell too is amazing as expected from her, surpassing that of a Lycan, along with her hearing, taste and touch
.
Strength & Speed -
Larinas strength is incredible, much more so than she was when she was a Lycan, easily being able to simple destroy walls with a single punch, trees in a kick and so on. However, whilst her strength seems great, her speed is even more so. She has always preferred the fact she is fast than the fact she is strong. This also adds to help her retain her status as the best female assassin. She easily surpasses the speeds of an Arrancar, yet barely uses anything merely more than flitting, seeing no reason to.

Shadows -
Larinas most famed ability is her complete and absolute control over shadows, so much so that they have literally become a part of her. They are constantly laced on her skin, and react to her mood, thoughts and even her dreams. If she is unconscious, the shadows still remain fixed upon her skin permanently. The shadows she is able to form into solid objects to use which she can then form back into shadows once more.
She is easily able to access the shadow realm and use it to her advantage. Similar to that of another, she is able to form shadow tendrils that resemble something similar to snakes, constricting and flexible. These shadows are simply something only she can control, her very energy allowing her to use them.

These shadows too are used as an absolute defence mechanism. They react to threats and do exactly as she wishes, sometimes without her meaning them to. If someone were to reach to touch her for example when she does not wish it, the shadows will instantly react.

Seeing In The Dark -
Something so simple sounding, yet different. Because of her years spent in utter darkness, her eyes have completely adapted to them, meaning she sees better in the night time than she does in the day. The downside to this is that her eyes are extremely sensitive, reacting to most light, the sunlight being able to even burn her eyes.
Other Family Members:
Larina has two living sisters, Sadie Ltorá and Elle Kaedon, yet Elle is now believed to be dead due to Larinas hands. Sadie she does not wish to see anymore, having cut off as many ties as possible. Tsaria, her eldest cousin is still living, though off distant and has not had contact with Larina for centuries. The only family member Larina truly cares about is her youngest cousin Jahzara.
Spouse or Lover:
Gravity
Social Class:
Living with her parents, they were classed as the highest, however she the lowest. In today's society, she is normally classed, money wise, as high class, due to the income she receives, though generally, she is simply middle class.
Education:
Despite Larina not attending school, she is exceedingly clever, her IQ being extraordinarily high, yet not as much as some others. However her knowledge of survival surpasses many of others, and, sickly her knowledge of torture.
Job Related Skills:
Due to Angelus' teaching, she is able to make any weapon she wishes, though she simply uses the shadows for this now a days. She is also an excellent cook, something many people do not expect of her, being told many a time she could become a cook.
Hobbies:
Larina is a brilliant singer and dancer and often loves to do so in her spare time, though she has never taken any of it seriously, instead keeping it as a pass-time. She also likes to read, yet never does so much as she has spare time. Also, she simply kills whenever she is bored.
Sense Of Humour:
Larinas sense of humour is rather dry, sarcastic and witty, but most of the time, she simply finds other peoples pain amusing.
Health, Physical State, Distinguishing Marks, Disabilities:
The only mark Larina has is the small tear shaped scar in the corner of her eye, apart from that, she is completely immaculate.
Sexual Orientation:
Straight
Lifes Quote:
Fuck it.
History:
To be wrote up completely. I'm tired now ;D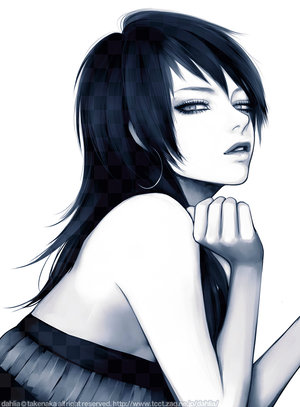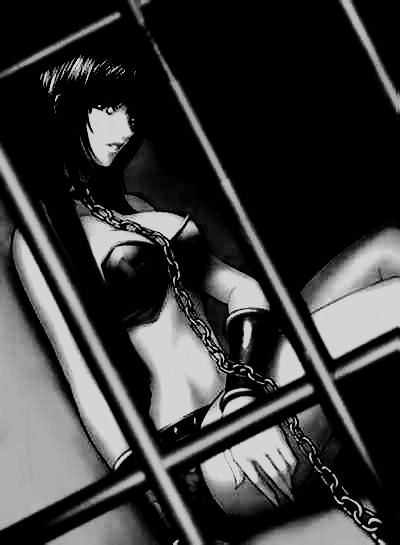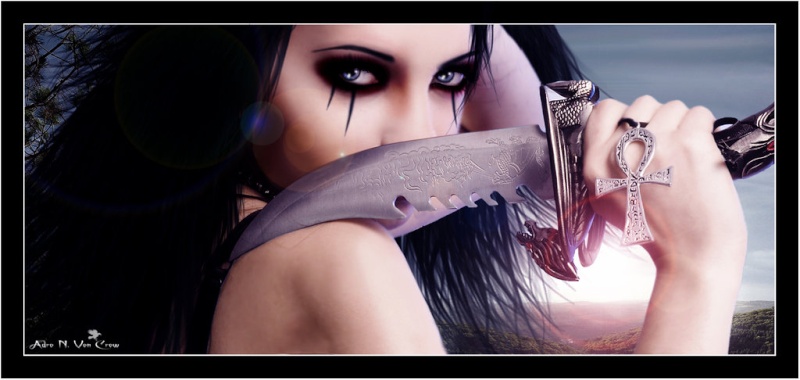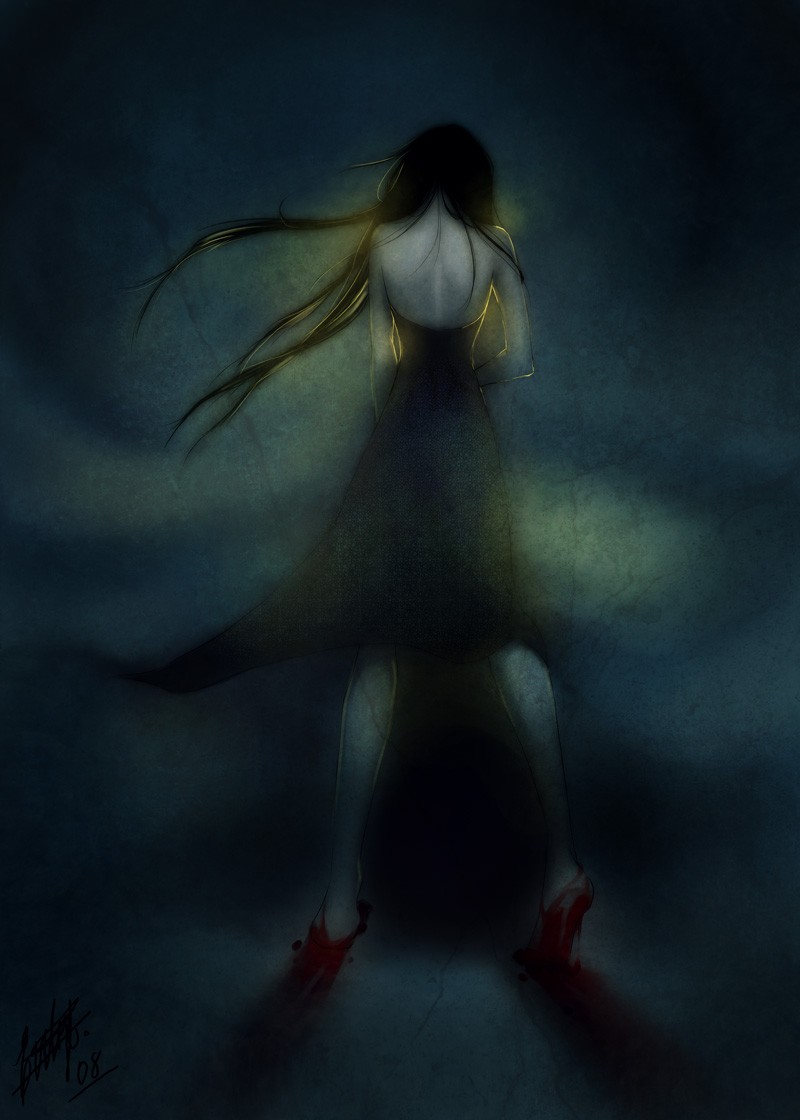 Last edited by Jessica on Sun Apr 04, 2010 10:04 am; edited 3 times in total
_________________
Look down at me, and see a fool.
Look up at me, and see a God.
Look straight at me, and see yourself.


Jessica




Posts

: 2443


Points

: 2567


Reputation

: 7


Join date

: 2009-07-19




Zoey

Admin





Posts

: 755


Points

: 829


Reputation

: 26


Join date

: 2009-07-09


Location

: shoebox.



bahahahaha.
new picture added.
_________________
Look down at me, and see a fool.
Look up at me, and see a God.
Look straight at me, and see yourself.


Jessica




Posts

: 2443


Points

: 2567


Reputation

: 7


Join date

: 2009-07-19



_________________
Look down at me, and see a fool.
Look up at me, and see a God.
Look straight at me, and see yourself.


Jessica




Posts

: 2443


Points

: 2567


Reputation

: 7


Join date

: 2009-07-19



_________________
Look down at me, and see a fool.
Look up at me, and see a God.
Look straight at me, and see yourself.


Jessica




Posts

: 2443


Points

: 2567


Reputation

: 7


Join date

: 2009-07-19




---
Permissions in this forum:
You
cannot
reply to topics in this forum